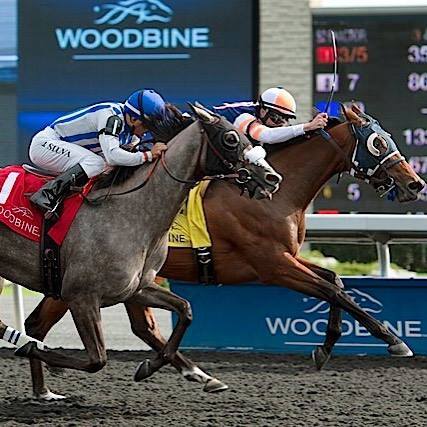 When someone asks why they should buy a share from one of the top horse racing partnerships, I tell them the number one reason is we are able to weed through the over 4,000 horses at the famous Keeneland September yearling sale and find you a stakes-caliber racehorse.
And it just happened on Sunday, September 20, 2015.
While at the 2015 Keeneland sale oddly enough, a Little Red Feather Racing/Keeneland grad, the 3YO filly Midnight Miley won the $125,000 La Lorgnette Stakes at Woodbine. So, the truth is, we can speak about LRF's value added services all day long; the great communication and the soup to nuts operation allowing you to buy 5% and have the other 95% of the horse to be absolutely taken care of.
However, the bottom line is no one cares about consistent updates about a bad horse.
People buy from top horse racing partnerships because they do all the things mentioned above and they win stakes races. Look at the records (they are posted on ownerview every day) of the top thoroughbred partnerships like Little Red Feather Racing, West Point Thoroughbreds, Eclipse Thoroughbred Partners, and Starlight/Starladies Racing.
In 2015, the top 10 horse racing partnerships have earned almost $15 million in 2015 (winning 33 stakes races) while the other 44 horse racing partnerships combined have earned a little over $8 million.
One might say the cost factor of buying into a horse racing partnership is more so the added earnings just evens things out. As pointed out in this blog about auction prices at Keeneland horse racing partnerships add tremendous purchasing power and value and the perception that you pay more is factually wrong.
LRF spent a week at the 2015 Keeneland sale. We physically inspected hundreds of horses. We discussed and vetted the prospects with our bloodstock adviser, consignors, trainers and veterinarians. We battled in the ring against other owners to purchase prospects that fit in a pricing model that makes them attractive investments. Then we offer the prospects in neat 5% – 20% packages backed by unprecedented service from the start of breaking and training to the winners' circle.
It is this value added proposition that separates the big horse racing partnerships from the smaller ones. We understand there are different syndicates with varying models and services. The others usually offer lower markups. As is the case in life, you get what you pay for.
Do your homework. The top 10 thoroughbred partnerships prove on the racetrack that it pays to buy from the best.
{{cta('7f90c40d-053f-4143-b319-a06be60edf5d')}}