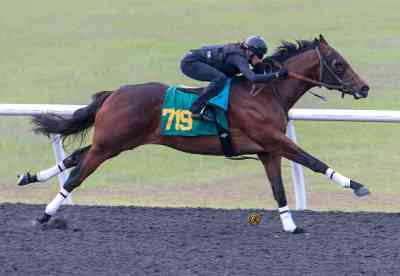 Welcome to the OBS March Sales Interactive Blog. We hope these next few writings help give insight into purchasing a two-year-old at auction.
The two day dale beings Tuesday, March 15th and the LRF team has been on the grounds all week looking at breeze videos and physically inspecting the more than 600 cataloged horses here in Ocala, FL. Unlike a yearling sale, horses breeze either one or two furlongs which gives buyers their first glimpse of each horses talent and potential. These are logged and available for viewing here.
Being one of the biggest and best sales, all the major buyers, including our competitor thoroughbred partnerships are here this week. And they are all looking for the same thing. A stakes quality racehorse.
So, let's get right to it.
One of the first questions we get is what do you look for in a racing prospect. Like a piece of art, buyers look at all different shapes, sizes and angles. What attracts one buyer may do just the opposite to another. There are, though, a few common traits that at least in the last few years have attracted a majority of the attention… and that's breeze times. You can almost draw a line top to bottom correlating the fastest breeze times to the highest purchase prices. Furthermore, although consignors (the people who sell the horses) may try to convince you otherwise, faster breeze times are now documented to conform with top performance on the racetrack. Of the 2015 Kentucky Derby horses that went through the two-year-old sales auction, all except 50-1 War Story, had extremely attractive breeze times.
Add to that the data that horses purchased for $500k or more have a 2-3 times better for success rate (than those purchased for $100k) and well, buying horses is pretty easy, right? Thankfully, horse racing is still a zero sum game. The math also states buyers over pay for the best horses. Playing at a high level can get you burned fast. The old saying is how do I make a million dollars in horse racing….start with ten million. Unless you have an unlimited budget, you need to find value.
For a thoroughbred syndicate like Little Red Feather Racing, our budget tends to be in that $50,000- $200,000 mid-range level. To us, this gets you the best chance for a positive ROI. Do the math. I will give up the 2-3 times better chance for success model if my horse costs 80% less. In truth, there are many nice horses to be had in the $50k – $200k range. In fact, Kentucky Derby winner I'll Have Another was purchased for $30,000. So was Big Brown fetched $190,000 and Monarchos $170,000 just to name a few. Interestingly since 1960 only three Derby winners were purchased at auction for $500,000 or more. In the last ten years this mid-range has the best ROI.
The key to finding horses in this range is having the right team which for the last years has been run by Executive Bloodstock agent Tom McCrocklin. Tom not only has a great eye for horses (see Egg Drop, Bellamentary, Potesta, among others) but he also is what we consider "an Sales Insider". Tom knows just about all the consignors and how they prep or prepare their horses for the sale. Like any business, buying from creditable consignors with past success on the racetrack is important. Since we can't just snatch up all the top horses with the fastest breeze times, we need to be more creative to find an edge.
In 2016, that means using for the first time information from a biometrics company. We believe scientific data is the next wave in the advancement of purchasing racehorses. Having said that, we are keenly aware that this is in the nascent stages and the results (although encouraging) are still unproven. Our biometrics will analyze each breeze with slow motion and freeze frame technology, allowing them to calculate stride length, quality, efficiency, and other key variables that have been identified as performance predictors in two-year-olds. Horses that meet the stride criteria are also inspected and evaluated for body structure, conformation, and soundness. Finally, a biomechanical and cardio analysis is done which gives buyers further detailed projections on racing performance.
For this sale, we will analyze the data and adjust our selections accordingly. We will also look out for others using the same or similar technology. Again, sales are about value. If everyone has the same info, it simply raises the prices and eliminates your advantage. The key is finding the right horses at the right prices and we hope this new technology will give us an advantage this week.
That's it for today. Tomorrow morning, we will continue to look at the prospective horses with an intensive ground inspection. With less than 48 hours to the sale it is time to start gathering our "short list". Of the hundreds of horses we will look at, maybe 30 will make it to our short list which we may share with you tomorrow!
Please feel free to ask any questions below or send us an email!
Enjoy the LRF OBS Interactive Sales Blog.