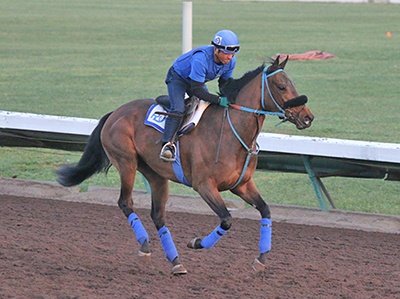 We've won the Breeders' Cup and pinhooked horses for millions of dollars. And I promise you the biggest win in LRF history or my career will always be the time we saved Tooreen Dancer's (IRE) life.
The word "we" is a also big one. Saving a horse's life stuck in USDA quarantine takes more than one person. It involves lawyers, senators, heads of big organizations and two governments. No one will ever be able to tell me we don't care about our horses because one Christmas I saw an industry come together to save this one.
And she runs tomorrow in the 3rd race at Del Mar.
It was typical day at LRF when European Bloodstock Agent Niall Dalton called with the hope of an Irish prospect. Among other reasons, we liked the way she fought winning her debut at Dundalk so we made an offer and ultimately purchased her. 
We did our customary pre-quarantine checks and before we knew it Tooreen was on her way to the U.S. On Friday December 9, 2016 after spending two boring days at Jet Pets/LAX quarantine we received a call from our handler that changed our lives.
"She tested positive for Glanders."
If you don't know what Glanders is, you're not alone.  Neither did we and you should sit down for this.
Glanders is a deadly infectious disease that was used by the Germans as a bio-terrorist agent. When clinical, the disease spreads devastatingly, killing everything it touches within days. Germans would inject horses with Glanders, drop them in towns and watch scores die.
"But don't worry," said the handler. "It's a false positive. She's fine. Shows no signs of any illness. They will re-test Monday and if negative, be released"
Since Glanders had been eradicated in both the U.S. and Ireland for the last 70 years, this was not the best weekend. We honestly thought the FBI was going to show up at our homes and put us in a dark room until we copped to being terrorists trying to bring Glanders in the U.S.
After three sleepness nights Monday came…. and another positive.
With the USDA, unlike Baseball, two strikes and you're out. We received a letter stating we had 7 days to "put the horse down" or "return to origin".
Without an appeals process, "Return to Origin" seemed like the only call. The Irish Government was notified over the weekend that they may have the first case of Glanders in 70 years and was chomping at the bit at getting the horse back to prove it was a false positive. As they explained to us, a horse that tests positive means quarantine for the entire country.
There was just one problem.
We asked the government to step in and take ownership of the horse. You see, IF Torreen in fact had Glanders, and she became clinical on the plane or upon arrival….guess what? Who do you think gets arrested for killing scores of people like the Germans? I can just see the first question at our trial. "So the U.S. government confirms two positives and you idiots still put a horse with known Glanders on a plane to Ireland?"
As much as the Irish government tried to twist our arms, we didn't budge. Which gives us the unfortunate pride of being able to say we once threatened to sue a foreign national government.
So we had 7 days to get the USDA to reverse its protocol and allow for further testing until the false positive….was just false. How did we know for sure she didn't have it?  We didn't. We spoke with Glanders experts from around the world who assured us the USDA testing procedures was inaccurate and if given time the strain providing the false positive would dissipate.
We asked how often the USDA changes their protocol and were told…they don't. This is over.
Or was it.
At this point we decided to see who our friends were. We made calls to anyone and everyone….Craig Fravel at Breeders' Cup, Alex Waldrop at NTRA etc. Through Mr. Fravel, we were introduced to Senator Mitch McConnell's office. Whether it was Mr. Fravel (obviously) or Christmas (maybe) the great Senator's office called the USDA and demanded a third test to prove Tooreen was in fact a healthy horse.
No joke, on Christmas Eve….we got word for the first time in 20 years the USDA was breaking protocol and ordering a third test.
Would you believe….she tested positive again!
To be honest, at this point we were starting to think maybe she actually had it. Regardless, due to our persistence, as long as we paid for it, the USDA agreed to keep testing until it came back negative or we finally gave up.
We ordered a fourth test….and finally, after 30 stressful days, a miracle happened. Tooreen Dancer tested negative for all infectious diseases and was allowed to enter the U.S. provisionally for 30 days provided she received two more negative tests. Per our deal with the USDA we sent her to a farm and not the racetrack to await the results and a month later she was cleared from the USDA once and for all.
As you can imagine, a horse stuck in quarantine for 30 days doesn't show up on a worktab any time soon. We rehabilitated Tooreen for 60 days and then brought her to the racetrack and trainer Phil D'Amato. While tomorrow's 3rd race may look similar to many on the great Friday night race cards at Del Mar, it will hold a special place in our hearts.
We can't begin to thank Mr. Fravel and Mr. Waldrop and Chapman and our partners and even the doctors at the USDA who we weirdly think were secretly rooting for the crazy guys in Los Angeles. Many people came together, including our government, to do the right thing and we will never forget it.