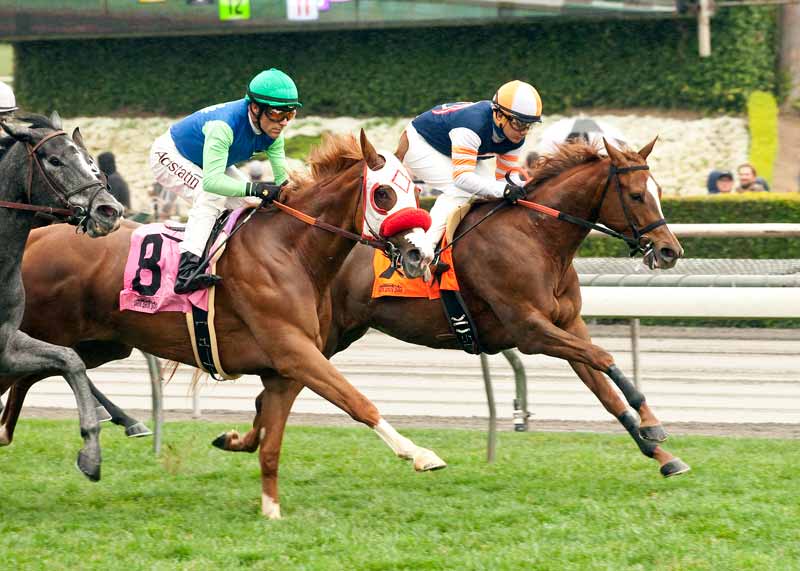 If you own a racehorse on your own or inside horse racing partnerships (want to know the pros and cons of each?) you will not win every race. I know that may be shocking to some of you but, unfortunately, it's the truth. If you win at a 15-20% clip, you are doing just fine. However, one of the most entertaining (for lack of a better term) parts of losing a race is listening to either your trainer or the managing partner of the horse racing partnership try and explain to you why your horse didn't win. Listed below are the top six excuses for racehorses which didn't win. In addition, we've provided a little "truth" to each excuse.
---
6. The Horse Didn't Like the Track
For whatever reason, this is probably the most common excuse you will here. This is most used when a horse appears uncomfortable (you may here the word "climbing") or "can't get a hold" of the racetrack. This excuse generally has a trickle down affect as it starts with the jockey, who then relays it to the trainer and/or managing partner of the syndicate. Track was too hard. Track was too fast. Turf was too soft. Etc, etc, etc. Do certain horses like certain kinds of track surfaces, sure? We'll call this 50% legitimacy.
5. The Horse Needed the Race
Although many trainers employed by racing partnerships are enamored with their win-percentage, other trainers "use" races, rather than workouts, to get their horses in shape. The key to this excuse is if the Managing Partner tells you BEFORE the race if they are simply "giving the horse a race" or if they use this excuse AFTER the horse didn't win. If you know going in that your horse may need a race to get back into shape, you should not be surprised when your horse does not win. If the syndicate used the "needed the race" after your horse runs poorly, you are looking at a 5-10% legitimacy.
4. We Ran the Wrong Distance
As you may or may not know, horses run from as short as five furlongs to as long as a mile and a half. Unlike the "needed the race" excuse above, the distance excuse is generally acceptable. Sometimes, racing managers and trainers will prep their horses at shorter distances (maidens usually twice) before "stretching them out" to a longer distance of ground (called two-turns). In addition, your management team generally uses the breeding or pedigree of the horse to pre-determine whether the horse wants to run short or long and, like human athletes, some are very good in sprints and some are very good in routes. It is a rarity to find horses that can do both but if you have one, they are usually very special (see Precisionist). We'll give this excuse a 90% legitimacy.
3. The Horse had a Bad Trip
No… we're not talking any kind of hallucinigencs here. The bad trip excuse is really hit or miss and is purely subjective. Absolutely there are times where your horse will simply be unlucky by getting trapped on the rail or the victim of a terribly slow pace for a closer or if the horse is forced to steady or check just when the real running starts. However, in many cases, a horse's bad trip is simply a disguise for the horse not not being able to quicken fast enough to burst through a hole or not being adaptable enough the sit off slower fractions and still finish. We'll give this excuse a 50% legitimacy.
2. It was a Terrible Ride
Everyone – and I mean everyone – loves to blame the jockey for their rides when a horse does not win. Some of the time, they are probably correct. If a jockey gets caught in a ridiculous speed dual up-front or if the jock decides to go very wide and loses tons of ground, of course these situations could be considered poor judgment on the rider's part. However, how many of you reading this blog have ever been on the back of a 1,500 lb animal going 35 mph while having to make a split second decision on whether to go inside – through a tight hole – or take the overland route? Me neither. As mentioned above, sometimes horses just don't accelerate fast enough to go through a hole on the rail or simply won't relax enough to take back and rate rather than to engage in a speed dual. 25% legitimacy for this excuse.
1. We Were Not Good Enough
This is the absolute hardest excuse for any racing manager to say to a partner. In truth, many owners don't want to hear that their horse just wasn't good enough. But horse racing is sport and competition. Not everyone gets a participation trophy and sometimes the fact is that the other horses in the race were just plain better. If your racing manager feels comfortable telling you this… you probably have the right guy. We'll make this excuse 100% legitimate.
---
Look, there are some legitimate excuses horses have which may be applied when a horse doesn't win. Just make sure the managing partner for the horse racing partnership is feeding you accurate information rather than playing the "blame game".
Want to learn more about horse racing and horse racing partnerships, check out the Little Red Feather Racing website now or click the link below to download our eBook.
{{cta('75466402-9f9b-457d-8d1b-ab23dfe33de2')}}