---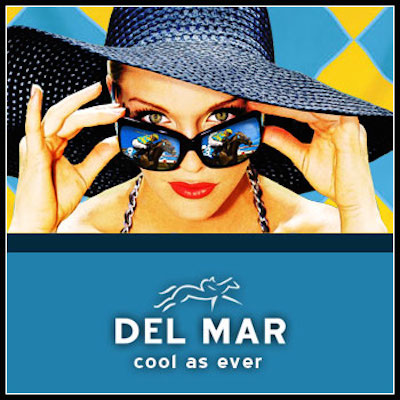 The best racing meet is here! One of the biggest benefits of owning shares in horse racing partnerships is the less is more theory. Instead of owning 100% of one horse that runs maybe twice at Del Mar, why not own 10% shares in ten horses and spend the summer at Del Mar?
1. Pinch yourself. That is the beach. It is 79 degrees. You are not in Saratoga anymore.
2. Go to the beach. There is nothing better than the glare of the ocean reflecting off your racing form.
3. Head to Fashion Valley and buy a new summer track outfit. The dress code at Del Mar is casual, but cool. And not tank top cool. We still look good out here.
4. Hike at the Beach Trail at Torrey Pines. Exercise and hydrate people. Del Mar is not a sprint, it's a marathon.
5. After winning big at the races, splurge and treat yourself to dinner at The Market. Order the peaches and prawns. If they are out of peaches, it's because you showed up after the Paul Weitman group.

6. Email LRF and spend the morning at the barn. It looks like this.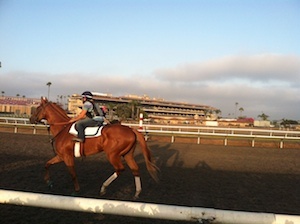 7. If you like pancakes… run, don't walk, to the Naked Cafe (Sorry Claire's on Cedros, you've jumped the shark).
8. Drive up to Chino Farms in Rancho Santa Fe. It's the rolls royce of vegetable stands.
9. Grab a date and watch a concert at Humphries by the Bay. And don't be upset that some guy in a canoe in the water has a better seat than you.
10. Lunch is spent at Board n Brew. Call it in first. Even if you dine in. When you get there, you'll understand why.
11. Nightime is now spent at L'Auberge or the Saddle Bar. Do not walk over to Jimmy O's at midnight when L'Auberge shuts down – – unless you're in your 25 (or think you're in 25).
12. Speaking of L'Auberge, if you like massages, this is the best spot in Del Mar (spoiler alert, it isn't cheap).
13. Play golf at Torrey Pines. Unless you don't like staring at the ocean all day. It looks like this.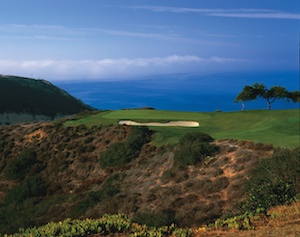 14.Take a private tour of the racetrack with DMTC's Mac McBride. It will be the best 90 minutes of your summer. Email us for details.
15. Yes, do the touristy stuff like the Zoo and Legoland.
16. And that means taking in a Padres game too. Buy a hat. We're all Padres fans during the summer.
17. Friday night racing on the deck of the Veranda Cafe. Order a drink called Awesome (you know why it's called an "Awesome", cause it's Awesome), and don't forget to grab a VIP wristband for the concert (when josh Rubenstein's says he doesn't have anymore; check his left back pocket)
18. If you have a dog… dog beach is a great spot. If you don't have a dog, and like meeting people with dog's… dog beach is a great spot.
19. Spend a night with friends and BBQ. Buy the Tri-Tip at Cardiff Market. It's called Cardiff Crack and it will change your life.
20. Do something different this summer – like take a surf lesson and learn the ABCs of surfing (Always Be Cool).
21. Get a haircut at Shampoo Too from Nezi or Shlomit. Nezi is the real life Zohan. Tip Nezi well, he's a commando.
22. Brig tacos over looking the race track. Not sure why we listed 21 things to do before this one.
23. Take a hot air balloon ride (just kidding. It's too high!).
24. The Quik Korner has more than just racing forms (try the Italian Sub) and the Thai place next door (Bangkok Bay) has a long line of people waiting to get in for a reason.
25. Take a winners' circle photo with our LRF Partners. That's what being in horse racing partnerships is all about!
---
{{cta('a45b9e4c-2a9d-4ba4-8fce-a96b9db491b0')}}