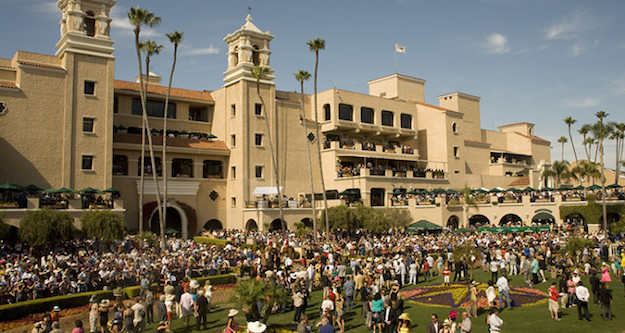 People have short memories.
Three years ago, with the threat of Hollywood Park closing, a non-profit organization stepped up and stabilized the Southern California thoroughbred racing circuit. This non-profit worked long and hard within a model not seen or tested and doubled production of their near perfect product. Remember what the other Southern California racetrack did when Hollywood closed, and supply became limited… they tripled their season ticket prices.
With year two of the new Bing Crosby Season at Del Mar in the books, I want to personally thank the Del Mar Thoroughbred Club. Two years ago my partners were sitting in a dark, cold and empty Hollywood Park. For most of November 2015, owners were at the beach and watching races at an iconic racetrack in the 8th largest city in America. Instead of looking at a racing schedule that included gaps of dates at a quarter horse track, I saw November handle that was bigger and better than anything Southern California has seen in years. The last two Hollywood Novembers pulled in $6m+ in average daily handle while Del Mar 2014 and 2015 saw $7m+.
So, let's get the elephant of the room out. Was 2015 as big as 2014?
No.
Any business school graduate will tell you raw data or year to year numbers can be misleading. With our history and daunting prospects, handle alone simply cannot describe the whole picture. The industry asked DMTC to move from a summer session to writing a blueprint for the next 25 years. Many successful technology companies today once pivoted from their original business plans.
But people have short memories.
Southern California racing lived in a bubble for 75 years. Thanks to government regulations and restrictions, racetracks were impervious to market forces and changing economic conditions.
Adjusting overnight without bumps in the road is nearly impossible and placing that kind of expectation on DMTC is ridiculously unfair. That the industry thought they could do it actually speaks volumes of the staff. This is the same staff that was one of the first to say the growth of thoroughbred partnerships is a way to bring new owners into the sport. This was against prevailing wisdom and the hierarchy of the sport. Today, not only are over 50% of all horses now owned in thoroughbred syndicates, but field size and foal crops are both up as well.
Anyone can judge growth numbers but it takes real leaders to create it.
I believe DMTC will chart a new course that my children's children will one day enjoy if we give it the time, space and support. When things go sideways that's when you need the right leadership the most. Dedication to an industry is more than numbers and bottom line. It's the heart. And any business can't succeed without good souls. "Don't be Evil" is the motto of one of the most successful companies in history. Creating the future of Southern California Racing from where we stand today is not going to happen without smart, devoted, and passionate people. We have all three at DMTC. I'm confident with the Breeders' Cup in Southern California the next two years, by 2018 we will trending the right way.
But people have short memories and will have already forgotten 2015 by then.