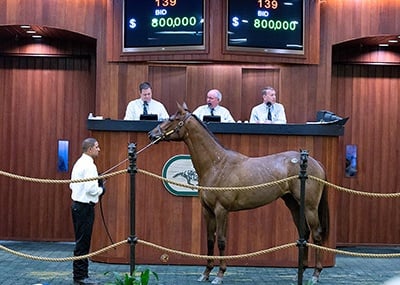 In last week's blog, we discussed the cost it takes to keep and train a thoroughbred racehorse. However, as you might have guessed, there is another – sometimes substantial – cost when entering the Sport of Kings and that is the actual purchase price of the equine athlete.
So… seriously… how much does it cost to buy a racehorse?
Whether you own singularly or invest in horse racing partnerships, for what many would describe as a luxury purchase, the cost to buy a racehorse has a vast range. For example, at the 2014 Keeneland September yearling sale, the most expensive horse purchase was $1.2M. On the flip side, on the very last day of the sale – during session 13 – a yearling sold for a only $1,000. I'd say that's a pretty enormous range, right? At the very same sale, the average price for a yearling was $276,375 and the median $254,000.
Just last week, OBS (Ocala Breeders' Sales) concluded its third and final two-year-old in training sale of the year. During the OBS June sale, the average price was $39,722 and the median was $18,000. Several horses sold for as much as $575,000 and, on the low end, there were horses sold for as little as $1,000. In fact, at all three OBS Sales – March, April, and June – there were countless horses sold for less than $10,000.
So maybe the question isn't how much does it cost to buy a racehorse but how much does it cost to buy a GOOD racehorse?
This question – like our first question – comes with an incredible range. Remember, our Triple Crown Winner – American Pharoah – was a "buyback" at $300,000 at the Fasig-Tipton Saratoga Select Yearling Sale in 2013. Another Bob Baffert Kentucky Derby winner, Silver Charm, was purchased for $75,000 at auction, the same price as 2013 Kentucky Derby winner, Funny Cide. Funny Cide, the "plucky NY Bred gelding" was owned by Sackatoga Stable, a group of high school buddies who each put up $5,000 initially to take a shot at horse racing.
But wait… there's more!
John Henry (my second favorite all-time non-LRF horse behind Ruffian) was sold originally as a yearling for $1,100. That is not a misprint and I didn't leave out any zeros. If you don't think John Henry was game, watch this. Speaking of Little Red Feather (ok, I'm biased), our GI winning filly Egg Drop was purchased as a yearling by Tom McCrocklin for the bargain basement price of $12,500. She later sold – in foal to Tapit – at the 2014 Keeneland November sale for $1.9M. That was a very very good day.
I guess what we are saying here is it that you do not have to be a multi-millionaire or a shiek or on the fortune 500 list to a) own a racehorse and/or b) own a great racehorse.
You guessed it… there's more!
Truth of the matter is, more and more people are joining horse racing partnerships or thoroughbred partnerships than ever before. A syndicate means you don't have to own 100% of the horse. Instead, you may purchase a fractional share in a racehorse. I spoke to Aron Wellman, President of Eclipse Thoroughbred Partners, and an entry level fee for someone to purchase a piece of one of their horses is $10,000. Tom Bellhouse, Chief Operating Officer at West Point Thoroughbreds, explained that their entry level position is between $8,000 – $10,000. Both Eclipse and West Point are two of the best in the business when it comes to partnerships and many of their partners have found themselves in the winners' circle of graded stakes races while investing $10,000 or less. Gary Fenton, Managing Partner of Little Red Feather Racing, always takes the approach that horse ownership is a numbers game. "I tell people all the time that I'd rather have 10% of 10 horses than 100% of one," Fenton said.
After reviewing my own blog, I'm not sure I completely answered my own question! AAAHHHH! I guess the answer is it can cost as little as $1,000 or as much as $16M (see The Green Monkey). However, I think the point I'm trying to make is that it really doesn't cost that much to buy a racehorse and, to some extent, to buy a good one!
Interested in learning more about racing partnerships, please download our e-book below.
{{cta('5b83cf3a-e0de-452f-a82d-aeb6f3c28ee8')}}