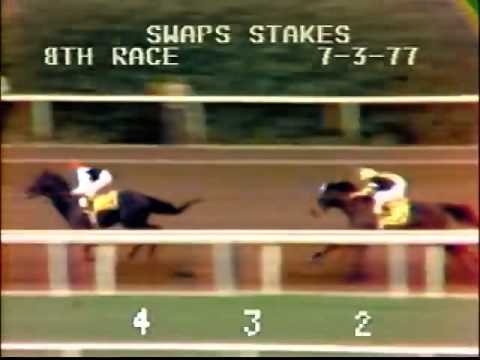 On Sunday, July 3, 1977 my grandfather picked us up from my mom's house and we started our regular drive to Hollywood Park. I was 8. My sister Emily was 5. We were in our Sunday best. All dressed up because we were fortunate enough to sit up in the Director's Room with all the Hollywood big wigs. Plus, we had to look good for self proclaimed style-master, Grandma Rudee. I was most looking forward to the delicious roast beef (of which I often had seconds and thirds from the buffet) and I had spent most of the night before going over the Racing Form to get my picks ready. Gramps gave us each $10 to bet with. My $10 was generally spent on the daily double while Em's lasted all day. She even offered to pay Gramps back the original $10 bucks if she still had it at the end of the day. I usually went back for $10 more after I had lost the first race.
Gramps had a "secret" way to get to Hollywood Park, always taking the side streets and avoiding the crowded (yes, even back then they were crowded in 1977) freeways. Eight years later, once I started driving myself to the track, I realized these side streets didn't really save any time at all. I just think he took them to make the ride special. To tell a story. That's what kind of guy he was. Everything was made little more special than perhaps it really was in reality. He was a movie producer and, well, that was his job… telling stories. The willing suspension of disbelief. I would learn that term later from one of the many classes I took from Professor Irv Rein at Northwestern (Go Cats!). On this day though… there was only an "un" willing suspension of disbelief.
Back in 1977, Hollywood Park was the place to be on a Sunday afternoon. The crowds were huge and the races were fantastic. On this specific day in early July, I remember being more excited than any other day. For today, I was going to see my absolutely favorite horse run in person for the first time.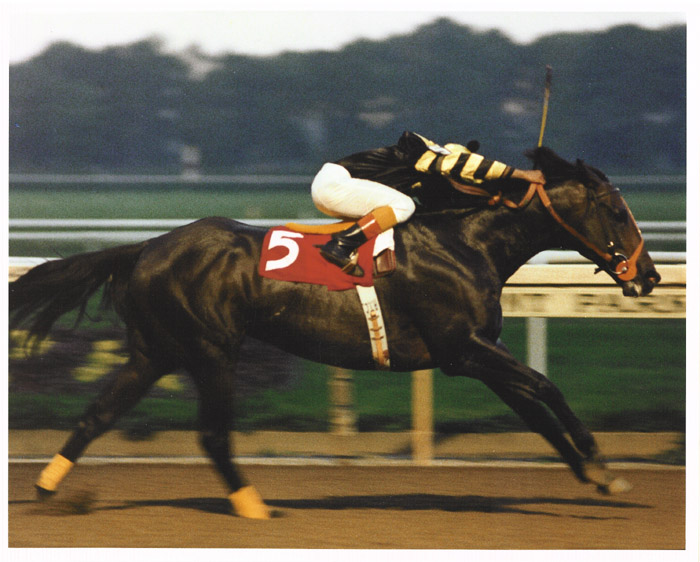 Seattle Slew wasn't just my favorite horse, he was everyone's favorite horse. The Slew was jet black, sleek, like a Ferrari. He was also tough and gritty and always ready for a good battle. And he was very, very, very fast. Seattle Slew captured horse racing's Triple Crown in 1977 while undefeated and virtually untested. He destroyed his competition in the Kentucky Derby. He crushed them in the Preakness. He romped in the Belmont. He was American Pharoah before American Pharoah. Seattle Slew was, quite simply, the best racehorse on the planet. The Slew was owned by Karen and Mickey Taylor. I remember their super cool black and gold silks, which only added to the allure of the Slew. I used to sit and draw photos of the Slew and the silks for hours upon hours. That's what I did during my free time when I was 8 and I wasn't reading the Form. We didn't have cell phones, Instagram, or League of Legends. We had pencils and paper and transistor radios so I could listen to the "Horse and Jockey" broadcast. A Powerful Source for Winners!
So our family went to the races that Sunday and I was so excited to watch Seattle Slew, my favorite horse of all time, crush a field in the Swaps Stakes. After all, the Slew was the champ. Nobody had ever been close to him. The Slew was an overwhelming odds-on favorite that day and then, something amazing happened. He lost.
A blinding fast 3yo, originally from Europe no less, J.O. Tobin took the lead right from the start of the Swaps Stakes under the legendary Willie Shoemaker and, literally, left Seattle Slew and the rest of the field in his wake. J.O. Tobin won that day by a widening eight and a quarter lengths while finishing the mile and a quarter in scorching fast 1:58.60. (VIDEO)
I remember watching the race and crying. I didn't understand how Slew could run like that. Slew crushed J.O. Tobin in the Preakness a few months before the Swaps. My special day, a day I was looking forward to for weeks, was completely ruined. But the events that day taught me a valuable lesson. Anything, and I mean anything can happen in a horse race.
This Saturday, almost 40 years later, I will be at Santa Anita. Emily will be there as well. We are also bringing an army of Little Red Feather Racing Partners. Truth be told, we don't refer to them as partners or clients. Our LRF Partners are family.
We will be at Santa Anita on Saturday with a giant sized chestnut Bellamy Road filly named Bellamentary. Purchased on the recommendation of bloodstock agent Tom McCrocklin at at last years OBS April sale, Bella – as she is affectionately known as – finished second in her career debut at Del Mar last summer. She broke her maiden easily last fall and then went to the shelf with a minor injury. She returned with a vengeance three weeks ago at Santa Anita, winning an allowance race by three lengths.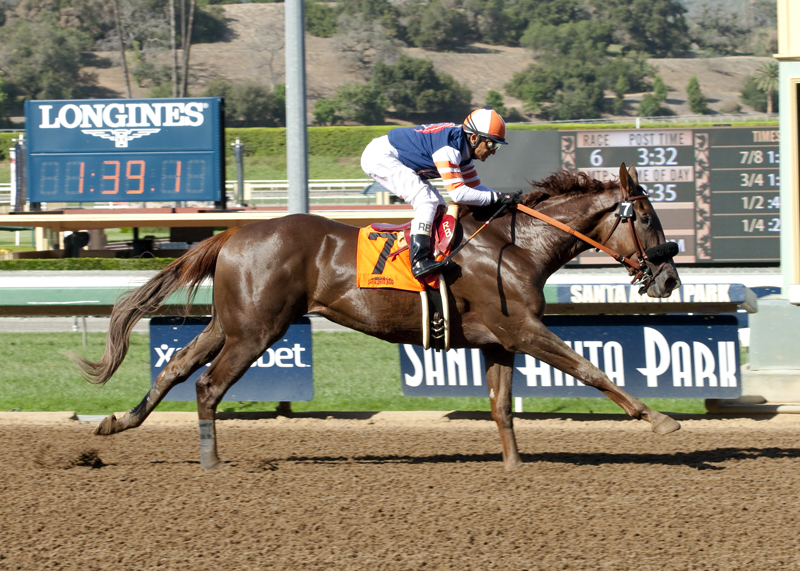 However, like J. O. Tobin was back in '77, Bella will be a massive underdog come Saturday.
The Grade I $400,000 Santa Anita Oaks will be run on Saturday at Santa Anita. The SA Oaks is a prep for the GI $1M Kentucky Oaks to be run on May 6 at Churchill Downs. The SA Oaks will feature Bellamentary and another horse eerily similar to Seattle Slew. Well, except this horse is actually a filly.
Songbird is unbeaten in six career starts. She has already won two Grade I races including the 2015 Breeders' Cup Juvenile fillies, where she cemented her title of Eclipse Champion. Songbird's jockey, Mike Smith, is in the Hall of Fame already and is still one of the best in the business. He has gone on record comparing Songbird to some of the greatest female racehorses of all time, including one he is extremely familiar with, the great Zenyatta. Songbird will be an overwhelming favorite in the SA Oaks on Saturday. In fact, she is listed at 1-9 on the morning line. Every article I read says she cannot lose and everyone else in the race is running for second. She will crush, demolish, rip, and destroy, the six other fillies she will face. I almost feel like we're running against a female Terminator.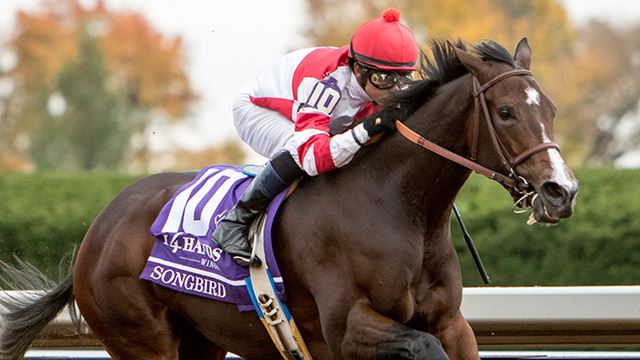 While Songbird is being compared to the likes of Rachel Alexandra, Bella is being compared to a dinosaur. But, as Gramps always used to say, "Willy, it ain't a beauty contest!"
Since LRF is a race horse syndicate, Bella is owned in part by an incredible group of people who need to be mentioned. So on behalf of Gary (who has done a tremendous job with this blog) and myself, thank you to Travis, Bryan and Renee, Pete and Polly, Steve, Eric, Michael, Joey, Barbara, Taylor, Marsha, Gerald and Cavs (and our partners from RM Racing, John, Ron and Cindy). Thank you for believing in LRF. Gerald will be there with us on Saturday without his loving wife, Pam, who we lost last month. We miss her miss dearly. Pam will watch the race with Gramps from upstairs.
It was family that started my crazy obsession with horse racing almost 40 years ago. I am honored and privileged to stand by our new family, the Little Red Feather Family, as we shoot for the stars this weekend.
Might Bella upset Songbird this weekend the way J.O. Tobin shocked Seattle Slew? Probably not. But nobody thought Slew would lose either. Especially that 8-year-old kid who remembers that day like it was yesterday.
Please check out our E-book and learn more about the world of Racehorse Syndicates.
{{cta('7f90c40d-053f-4143-b319-a06be60edf5d')}}