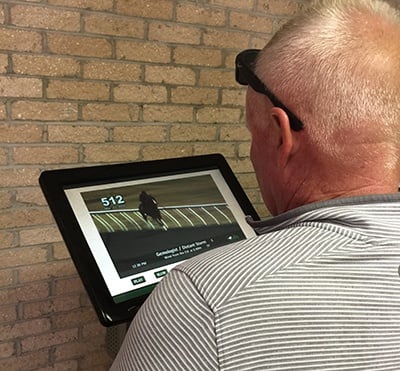 The day before the two-year-old in training sale is when it all comes together for thoroughbred syndicates. You physically re-inspect horses. Review videos again. And again. Talk to people…and if you're smart you're not talking so much as listening. OBS March has 600 horses which is usually whittled down to about 30. Sometimes 10. Sometimes 50. Each buyer has their own "check the boxes". With some sales you see many horses that fit your model. Great, you feel better you may get one. If you only see a few, chances are smaller. The most common misperception is you just find a few horses you love, bid and hopefully go home with your new purchases. In reality, you look at your notes – the pros and cons – funnel down to a select number of flaws you can "live with" and if the price is right, you buy. Every now and then a horse pops up that checks all the boxes and you fall madly in love. Most of the time, you're grinding through hundreds of horses and swinging at the best pitch you see. I've seen too many horses "you love" never pan out while the ones you simply bought because they fit the model in nondescript ways later become stakes winners.

Team LRF was on the grounds for about 8 hours again today. The day before is like a sales convention. All the products are on the floor and each consignor is trying to sell it to you. As a buyer, you take the products out for a spin and hope you like it. The great thing about horse racing is what one person likes, someone else may not. Our process starts with videos (that's LRF Executive Bloodstock Agent Tom McCrocklin above). We're looking for athleticism much more than time mainly because as mid-rangers, we can't afford the horses that breeze the fastest. The stride analysis provided by our biometrics team comes in at this point. After the videos eliminate many horses, we set sail for the barns. For most of the day, we ask consignors to pull out each horse on our list so we can physically inspect the merchandise. That means having them walk in front of us.
In our opinion (and again everyone is different) we look at three main things at the physical inspection (and many little things): conformation, balance and attitude. If they don't check at least these three boxes, we cross out and move on.
Conformation is the structure of the animal. The more "correct" the horse is, the less chance it will get hurt. Having said that, we've seen beautifully conformed horses get injured and terrible ones never miss a day of training. But, it's all odds and like craps, they have a way catching up to you. For us, toes in or out is something we can live with. But a straight shoulder is not. These types of bodies usually won't stride efficiently which causes two problems. One, they may be more prone to injury and the other is since they can't maximize the movement of their body, they are generally slow. If a horse is offset in the knee, each and every time that horse hits the ground, the knee joint may be affected negatively and deteriorate faster.
Next, as they walk the horse in front of us, we look at balance. Big horses are beautiful, but in our opinion, have more body parts to move efficiently and thus have a greater chance of injuring themselves. Short necks are also a big no no. Usually these necks are not proportioned well to the rest of the body. If the balance is not fluid, their strides will not be as well. Finally, we like to see attitude. These horses get pulled in and out all day long for a week. Reminds us of how racetrack living will be for them. We want to see horses on their game, unaffected by their surroundings, with their head up and a general disposition that almost demands that we pay attention to them. At a two-year-old sale these horses may debut in a few months. They better already have the look of a racehorse.
By now our list is maybe 40 deep. We will probably eliminate another 10 or so based on the consignor. Think of a used car salesmen. You like to buy with confidence. There are consignors with a history of selling excellent racehorses and then there are those with suspect reputations. If we are lukewarm on a horse, a consignor with either a lack of or no history may tilt us the wrong way.
That's it for today. Tomorrow is the day 1 of the auction! In the morning, we will speak to our vets who have reviewed the x-rays on the horses on our "short list". Each horse has x-rays taken a couple of days prior to a sale and deposited in a repository for every buyer to review. We will probably eliminate 25%-50% from our short list based on a "problem" discovered in the xrays (eg a bone chip). Like our listed criteria above, everyone is different. We could write a whole other blog just on what owners throw out or keep him. I know some of you were waiting for details on our "short list" but we decided against posting them (sorry!). Notwithstanding, we will probably go through our list tomorrow post mortem as we discuss the actual auction itself.