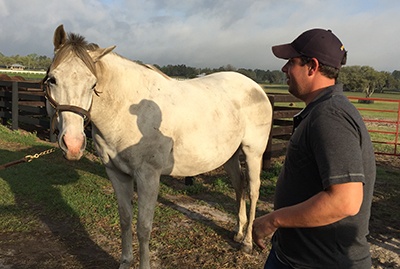 As anticipated, the OBS March ended in fine fashion today with another seven figure buy pushing the sale just south of the 2015 installment.Following an uptick day of trading, OBS reported an overall two-day gross of $51,650,000 versus $55,432,000 in 2015 for the same 325 horses sold. The two-day average fell from $170,560 to $158,923. The RNA rate was 25%, compared with 23% a year ago. Overall, my thoughts are similar to yesterday. The middle market is not what it used to be at these sales with the big buyers competing for the same limited number of high end horses and strangely not wanting to dial back to the next tier horse. With the bulk of Kentucky Derby winners (and countless stakes horses) sold in the mid-range level, it surprises me that the best and brightest take a herd like mentality to horse trading.
As for LRF, Day 2 was productive. Before we begin, I must digress for a minute. In 2013, our horse Egg Drop won three consecutive stakes races, including the Grade I Matriarch (the last GI at Hollywood Park). Eggy was sold in 2014 in foal to Tapit for $1.9m to John Malone's Bridlewood Farm. Early this morning, we were invited to pay a visit to the historic farm where we saw Eggy, who is literally about to foal any second (again to Tapit). We also met her first son, aptly named Won Ton. That's her (assistant at the time) trainer Phil D'Amato and funny enough, as soon as she saw Phil her ears pricked like when she was in training. We had a tremendous time. It was a nice breath of fresh air during the middle of the sales storm. It reminded us why this sport is so beautiful.
Back to the sale. Our short list got shorter early in the day when our vets scratched off two horses….leaving us with four. We went hard for Hip #331, a Tiz Wonderful colt, but we stopped at $200k and lost him when he went for $210k to a co-ownership that includes one of the biggest owners in the game – B. Wayne Hughes (Beholder). So, we felt good being on the "right" horse and had no regrets not spending another $5k since when B. Wayne Hughes wants a horse he usually gets it.
At this point, with only three horses left, we re-visited Hip #60 which if you recall was bought back by his owner yesterday for $70k. The horse was still for sale – which gave us relief that we may walk away with a quality horse we wanted all along. Still, we didn't pull the trigger again!
Someone might ask, clearly you don't want Hip #60 since it is still technically #4 on your list. Not true. We just wanted to play out our options. My favorite story to tell is when we buy multiple horses and everyone inevitably asks which one we like best/least. In almost every case the horse we place as the "last seed" ALWAYS ends up being the best. If we are still considering a horse at this stage, we think very highly of it.
Next up was Hip #524 – a super Pioneerof the Nile Colt who worked in a fast 10.1. We heard the reserve was going to be around $250k which placed him at the high end of our budget for the horse but we kept our spirits up. We raised our hand a couple of times but then the bidding flew past $250k. Then $350k. Our thoroughbred syndicate competitor Eclipse Thoroughbreds and Kentucky Derby winning bloodstock agent (I'll Have Another) Dennis O'Neill were hooked up against each other with Aron winning at $450k. Before you ask, yes it sucks losing a horse to a competitor, but we placed a different value and stuck to our guns.
We didn't have to wait long for our next horse – Hip #535 – a really nice Union Rags Filly out of an A.P. Indy mare. The reserve was $199k and we felt we had a decent chance at getting the horse in the $200k range. That feeling went away quickly as the horse jumped past $200k…on its way to $300k and sold to top bloodstock agent Donato Lanni.
With one horse left on our list, Team LRF had a serious discussion about Hip #60. This led to another visit of the colt….and a purchase. By Congrats out of an unraced Kingmambo dam what we liked most about this horse was his quick breeze and the way he looked effortlessly doing it. It also doesn't hurt to have a nice pedigree with the dam being a half sister to Hard Spun. We also hope this horse is ready to run early. We look forward to getting him to So Cal for a Del Mar debut.
Last, but not least, we made a run at Hip #597 and consistent with our sale we got outbid drastically by our friends at Live Oak Plantation ($375k).
Leaving the sale with one nice horse is not ideal but very productive. We spend countless dollars and time at each sale whether we buy something or not. It's our operating cost. We can't factor that into the number we buy since in the end each horse we purchase must meet a high standard and inevitably perform on the racetrack. If it doesn't, your brand suffers. I feel good knowing we try to present the best product to our clients and the results recently reflect the hard work.
That's it for the 2016 OBS March Sale. I hope you enjoyed these blogs. We liked sharing our thoughts with you. If you have any questions, just email us.
{{cta('7f90c40d-053f-4143-b319-a06be60edf5d')}}