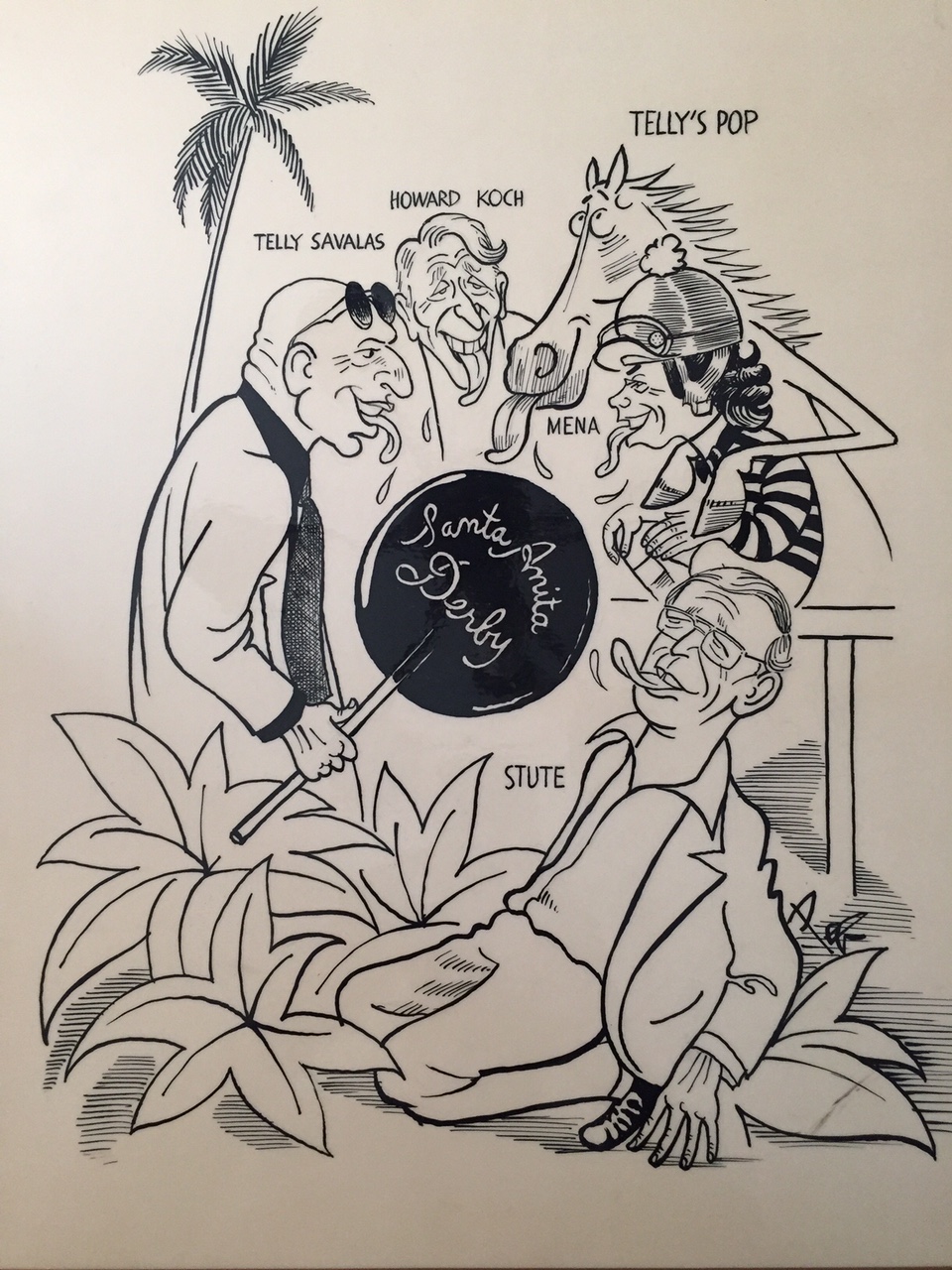 Before reading this blog, please know one thing. I am severely biased.
I've known Melvin F. Stute for over 40 years. He has always been a kind, jovial, family first kind of man while also being an excellent thoroughbred trainer. A thoroughbred trainer who should definitely be in the Hall of Fame.
Nowadays, I often sit with Mel and his son Gary (also a trainer) at Clocker's Corner at Santa Anita. We sit at the corner table with the Godfather, trainer Barry Abrams. Barry prompts Mel to tell me stories about his owners and his horses from back when Mel was rolling in the late 70's and early 80's, during horse racing's golden age, a time when Mel was one of the dominant trainers in Southern California.
Last weekend, Mel told a newcomer the story about my grandfather, legendary Hollywood Producer Howard W. Koch, who asked Mel to find me a hot dog at Bay Meadowns. "Stute the Smuggler", the newspaper would read the next day. I've heard the story many many times… but it never gets old.
Mel was our family horse trainer. In 1975, he sold my grandfather a CA Bred gelding who would become Telly's Pop. Named in honor of the guy my grandpa partnered with in the horse, Telly Savalas, Telly's Pop would take our family on a wild ride winning all three jewels of the 2yo California Juvenile Triple Crown – The Norfolk Stakes, The Del Mar Futurity, and the CA Juvenile Championship.
Some called Mel a "claiming trainer". But, as the legendary turf writer Jay Hovedy so eloquently pointed out in his 2011 Daily Racing Form article, that could not be further from the truth. Mel trained the winners of at least one running each of the Yellow Ribbon, the Californian, Del Mar Futurity, Hollywood Futurity, Vanity Handicap, Triple Bend, San Fernando, San Felipe, Norfolk Stakes, San Carlos, Las Virgenes, Strub Stakes, Test, Del Mar Debutante, San Carlos, and the Longacres Mile. Oh and by the way, he trained Double Discount to set a world's record for 1 1/4 miles on the turf. Not a "stakes-type" trainer? Yeah right.
When I asked 2009 HOF inductee Bob Baffert about Mel's Hall of Fame snub, he only yelled "Melvanized", the nicknamed he coined for horses who breeze as fast as they possibly could. Yes, Mel liked to breeze them fast. Jockey's Agent Brian Beach believes Mel was personally responsible for the term "bullet work".
But it was Mel's eye for a good horse that led to one of the greatest training careers we have witnessed in thoroughbred racing. "My dad had THE best eye for horse I've ever seen," Gary said. "He didn't need big bucks to buy a racehorse. He found the ones nobody else wanted and turned them into champions." Abrams took it a step further saying "Mel accomplished more than any trainer in American history with the crap he had. It's a true training miracle."
Henry Moreno, another charter member of the Clockers' Corner table said, "Every sire throws one good horse… and that horse usually somehow wound up in Mel's barn."
How about these credentials?
Mel is currently ninth all-time on the Santa Anita wins list with 540. Six of the eight trainers in front of him are already in the Hall of Fame.
Mel trained won Breeders' Cup races with Very Subtle and Brave Raj, who also own an Eclipse Award.
Mel won a triple crown race when Snow Chief, who had already won the Santa Anita Derby and Florida Derby, captured the Preakness Stakes, before winning an Eclipse award.
So I ask you, what does a trainer have to do to get into Racing's Hall of Fame?
Seriously?
I implore you to work with me as we not only get Mel on the next ballot this fall, but finally get this amazing trainer, loyal husband, caring father, and good friend, his just due… a place in racing history among racing's elite in Saratoga Spring's Racing Hall of Fame.