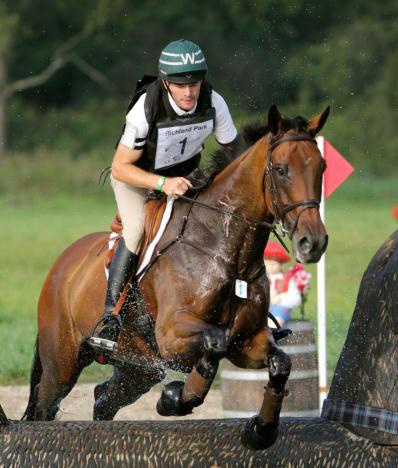 Horse Racing Partnerships First Charity Designed to Care for Partnership Horses After Their Racing Careers.
I am so excited to announce the formation of LRF Cares, a 501(c)(3) charitable organization which will provide aftercare for horse racing partnership horses and other noteworthy causes.
The first goal of LRF Cares is to make sure every Little Red Feather horse, whether they retire in LRF colors or not, is given a proper chance at a second career. If a second career is not obtainable, LRF Cares will find suitable homes for all of its horses.
In the past, LRF found homes or second careers for its retired racehorses, like McLovin above, who became a well-known hunter jumper. Now, LRF Cares will take over this responsibility and hopefully add in a tracking system to keep up with retired horses and jump in if needed.
Owning racehorses comes with great responsibility and my father instilled in me the importance of giving back. Besides a full time job, and four children, I watched him donate his time to making our community of Beverly Hills, CA better (over the span of 20 years, he was Mayor, Board of Education President and Treasurer). I'm hopeful we have and will continue to make a similar impact in the horse racing industry.
We get this question asked a lot – "What happens to LRF horses when they retire." Now, I can tell them we have an organization in place to make sure all LRF horses are taken care of for the rest of their lives. In addition, our ultimate goal is to expand to any major horse racing partnership horses. We invite West Point, Eclipse and other notable horse racing partnerships to join our efforts.
The initial board of directors will be myself, Billy Koch, Emily Koch and LRF Partner Renee Parcell. LRF invites all partners who wish to help to contact us.
"Renee has been a real driving force for us," said Billy Koch. "To see a partner support her LRF horses after their careers speaks volumes about Renee and the type of partners we have."
I am also excited to announce our first donation by LRF Partners Mike & Lynda Weeks. Some LRF Partners own horses on their own, and the Weeks have agreed to donate 5% from any win from their new horse Agent Nine T Nine with trainer Dan Blacker to LRF Cares.
LRF Cares will host its first fundraising event on Big Cap Day – March 12, 2016 – at Santa Anita Park in the Directors Room. Right now billed as Horses and Handicapping, the event will be a first of its kind charity handicapping tournament. The event is limited to 85 people who will compete in a six-race handicapping contest. The winner will receive a $5,000 credit towards the purchase of a share in a LRF racehorse. Look for the invitation next week. Special thanks to Santa Anita Park for giving LRF Cares a prime spot on one of the biggest days of the year.