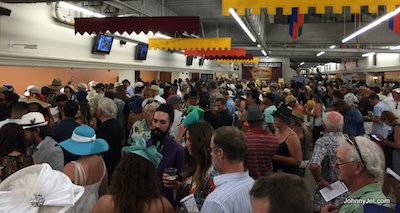 "I have the best time betting with a live teller,"
said no one ever.

If you can imagine the old supermarkets with its cashiers adding up each item using a cash register, you now know what it feels like to make a wager in the United States in 2015. Like the rotary phone, it's time for live mutuel tellers at the racetrack to be a thing of the past. Sure, even as I just wrote that it tugged at my heart. Placing a wager with a live teller is classic. But so was Atari. If we were able to move forward to XBox, we can start using automated machines and smartphones.
In truth, most of us already have.
According to Ray Paulick's recent article, at Santa Anita on opening day last week on-track patrons only wagered $78 per person. This is the lowest number in history (counting for inflation) and continues a downward trend from 2005 when $170 was the average wagered on-track per person.
As you've probably figured, $78 per person isn't entirely accurate. Many patrons do bet on-track – JUST NOT WITH A LIVE TELLER. They bet on their smartphone.
The fact is wagering through a live teller today is an awful experience. The lines are long and take forever to get through. You're always inevitably behind a patron not wagering but still handicapping at the window. Why the live teller has never asked a patron handicapping to "step aside" so others can bet is one of the great mysteries. "Step aside and when you're ready to bet you can be next" should be lyrics to a famous Grammy award winning song.
Name one business that wants its patrons standing in endless lines and not spending money or enjoying the experience? Recently, someone I know won a big bet – – "a signer". They walked to the special window and although there was but one patron in front of them, it took 45 minutes to receive their $935. I don't know one other business that can get away with that and survive.
Up until now, racetracks have not been incentivized to replace tellers. They are union labor and as many of you know, host racetracks still make much less revenue when a patron bets on its smartphone instead of through the windows.
How we don't have the technology and acumen to correct this baffles me.
Thanks largely to American Pharoah, 2015 saw a great resurgence in horse racing. The tremendous crowd on opening day at Santa Anita showed that 2016 might be the year we see the downward trend tick upwards. However, unless we can convert the new generation of fans with a tremendous on-track experience, they will not be back.

Sure, a racetrack needs live tellers to handle "signers" and larger handle should it choose to cater to its better clientele. Also, there should be a few to help with new patrons. Outside of this, let's find other jobs for our great tellers (cashiers?) and support the use of machines and smartphones. The new generation will pick up on the technology quickly. In fact, I bet they comprehand how to use the teller machines BETTER than they understand how to play the specific wagers.

{{cta('7f90c40d-053f-4143-b319-a06be60edf5d')}}