---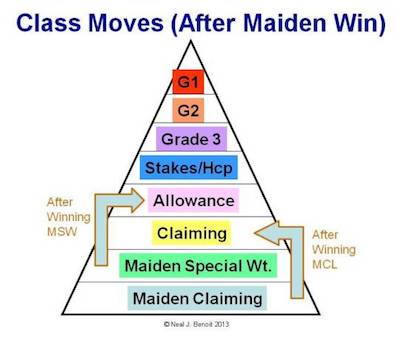 If you understand the above photo, this blog is not for you. However, if you're like the other 99% of the world, you need someone to explain why there are so many different types of races in thoroughbred horse racing!
The easy answer can be summed up in one sentence – thoroughbred horse racing gets its revenue from gambling and gamblers bet on races that are evenly matched.

So what does that mean?
To create an evenly matched race you need to find evenly matched horses. That's the primary job of the racing secretary. The RC must know all of the horses in the circuit (eg New York, Southern California, etc) and create races for each class. Since, there are over 2,000 horses in the Southern California circuit alone, there needs to be many classes and sub-classes of races.
This can all be broken down from three main classes of races – allowance, claiming and stakes. In these classes there are sub-classes for Male or Female; Dirt or Turf; Sprinting or Routing to name the major ones.
Allowance Races
These are big money races and are separated by number of wins. Thus, you start in a Maiden Allowance or Maiden Special Weight race (for horses that have never won) and then move up. If you break your maiden you start next in the first condition allowance, then second condition (for horses that have broken their maiden and won the first condition), third condition (for horses that have broken their maiden and won the first two conditions) and fourth condition (for horses that have broken their maiden and won the first three conditions).
Thus, there are five classes based on number of wins. Inside each class are, of course, the many types of sub-races (eg for Male/turf/routers… or Female/dirt/sprinters, etc.).
Claiming Races
If you can't compete in an allowance race, you are forced to move down into the claiming ranks. This means you run for lower purses, and each and every time you enter, your horse is for sale at the listed price. Thus, instead of wins determining the sub-class, it is naturally the claiming price. For example, a $75,000 claiming race is of higher class than a $32,000 claiming race.
Tracks will also write a bridge race between claiming and allowance called the starter allowance. Horses in this class are not for sale, but they must have once entered a claiming race to be eligible. In most cases, once you win "the starter" you have to move back to the claiming or up to the allowance level.
Stakes Races
Once your horse wins all of the allowance sub-class races, it's time for the biggest stage. Running in a stakes race is what it's all about. Whereas allowance races in Southern California have a $65,000 -$80,000 purse, stakes races have purses from $80,000 to $6m. You don't have to win each allowance condition to qualify, but you better feel confident since you will be competing against the best. Most owners race in each condition since you lose a condition if you win a stakes race instead. There are four sub-classes of stakes – listed/Hcp, Grade I, II and III. Listed or overnight stakes are generally in the $75,000 – $125,000 range in Southern California. Grade I is the biggest class in North America and must have a minimum $250,000 purse. There are 750 stakes races offered in 2015 with 463 graded.
So, there you have it. A brief synopsis of races in thoroughbred horse racing. Keep in mind two things next time you are at the races – read the condition of each race and be mindful that the race track is trying to create horses that are evenly matched against each other. If you invest in horse racing partnerships and have more questions, call your managing partner! That's what he's there for.