---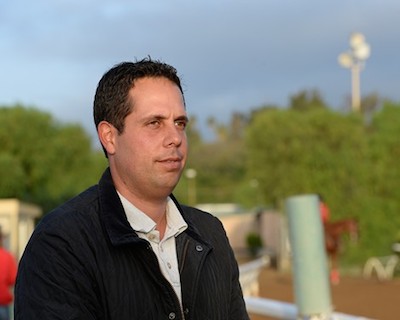 "There is no better young trainer for horse racing partnerships or in the game than Phil D'Amato"
Pete Martin, Partner Little Red Feather Racing

There are many reasons to like what trainer Phil D'Amato is doing.
The obvious ones are his on-track success. With a 27% win percentage (59% ITM) and over $2m in earnings in 2015 he is among the leaders in both California and nation wide (source equibase). In just two years on his own, Phil has also won 6 graded stakes races with 5 different horses, including Fanticola, Obviously (IRE), Midnight Storm, Big John B, and Bright Thought.
But that isn't the biggest reason.
For us, it is how he treated his mentor Mike Mitchell in the last 3 years of his life. Phil worked as Mike's assistant for over 10 years when Mike was diagnosed with cancer. When the disease prevented Mike from actively working, Phil devised a plan unique to the industry. Taking a model used in the financial industry, Phil didn't just "take over the barn". The two men came up with a mutually beneficial plan that not only put owners first, but financially rewarded the long time mentor as well. Mike stepped down as a full-time trainer and was immediately hired as a consultant for the new Phil D'Amato barn. This natural transition allowed owners to maintain continuity in the program while giving Mike a quasi 401k retirement plan.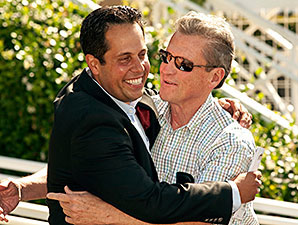 The class Phil showed with Mike comes across throughout his entire (and growing) operation. He already has 70+ horses, 14 with Little Red Feather Racing. Horse racing partnerships are unique and need a trainer who can not only win but communicate and have an inviting personality that welcomes partners into the barn. Client management is crucial to being successful in horse racing syndicates and Phil's ability in this area is masterful.
The success Phil has enjoyed appears to be just the tip of the iceberg. While often you see young trainers not able to sustain winning or the ability to handle grow, Phil's trend continues to climb. His win percentage is 2015 is better than 2014 and he just hired a full-time assistant. Transitioning to a bigger barn means showcasing your managerial skills and Phil has proven to be every bit as adept at being a CEO as a horse trainer. The future looks very bright for Phil and his team and we're proud to have him in our roster of trainers.