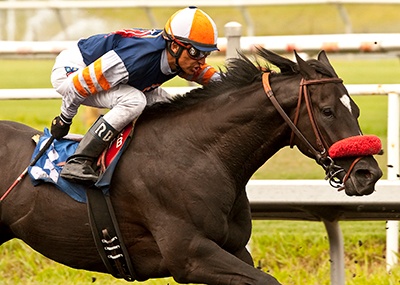 Buying a thoroughbred racehorse can be…should be….the most exciting investment you ever make. There is no better feeling than watching YOUR horse take the lead at the top of the stretch.
BUT HOW MUCH DOES IT COST?
It's the question we get asked the most – – and here's the answer.
Championship quality thoroughbreds cost between $100,000 and $300,000 to purchase and about $45,000 a year in expenses. Of course, buying a thoroughbred is competitive and purchase prices can easily exceed $300,000. We'd like to think if you have the right team representing you, they will be able to find a top thoroughbred racehorse in the range above. Furthermore, if you join a syndicate like Little Red Feather Racing, you can purchase as little as 5% and share in the above costs with fun and like-minded partners all professionally managed. $15,000 upfront and $2,250 per year for 5% allows you to spread your risk and own many horses for less than the cost of owning one on your own!
As for expenses, the $45,000 a year to maintain a racehorse in training (in Southern California) is broken down as follows:
---
Step 1: The Basics
The main expense in race horse ownership is your horse trainer.  In Southern California for example, the highest price trainer charges a "DAY RATE" of $120. However, even some of the very best trainers – Mike Puype, Phil D'Amato, etc. – charge in the neighborhood of $85 – $95.  The day rate consists of:
Employees – Assistants, Grooms, Hot walkers, Exercise Riders
Payroll Taxes (Thank you California)
Workers Comp (Again, thank you California)
Feed/Bedding – Hay, Straw, Grain
Vitamins
Supplies – Bandages, Tack, etc.
Trainers claim they do not make any money from their day rate and any income is earned from their cut (10%) of the horse's earnings. I'm not sure this is 100% true but, I am sure the trainers are not getting rich from their day rate either. Chances are your horse will not be in training at the racetrack 365 days a year. These horses are not machines and, like professional athletes, will need a break from time to time. When a horse is sent to a farm for a little R&R, the farm's day rate is generally around $50 a day.
Step 2: But Wait, There's More!
On top of the day rate, there are other standard monthly expenses such as:
Blacksmith – $80-$100 month
Veterinarian – $200 – $1,500 month
Dentist – $75 month
Chiropractor – $75 month
If you are a member of a horse racing partnership you may be charged for accounting costs as well. Some racing syndicates may also charge monthly management fees.
Step 3: Additional Fees
Entry Fees:  Most people are surprised to find out that it does not cost anything to enter your horse in a race, unless the race is a stakes race (Kentucky Derby, Breeders' Cup, etc.). Some stakes races, like many of the Breeders' Cup Classic, cost in upwards of $120,000. Since the purse of the Breeders' Cup Classic is $6,000,0000, many owners will take their chances with the hope of a jackpot payoff. For stakes races in the $200,000 purse range, the entry fee is generally around $3,000. Rule of thumb is entry fees are 1%-2% of the purse.
Trainer & Jockey Commissions: These are not necessarily fees so much as bonuses taken out of a winning purse. In general, the trainer and jockey receive 10% each of any winning purse and 5% and 5% for 2nd and 3rd place finishes. It's smart to keep this information handy when creating your horse racing business plan so there are no suprises when the winning purse shows up with these deductions.
Accounting: Many horse racing partnerships, like Little Red Feather Racing, will charge accounting fees and end-of-year K1 preparation fees. As an individual horse owner, you must account (pun intended) for the time it takes to pay all of your monthly bills and keep records for tax purposes. Our suggestion is to simply hire an account who is familiar with the racing game to assist you.
---
So there you have it.  The cost of owning a thoroughbred racehorse!
Interested in finding out more about horse racing partnerships? Please contact Little Red Feather today or download our eBook below.
{{cta('7f90c40d-053f-4143-b319-a06be60edf5d')}}