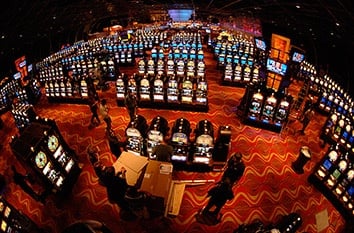 These days the most important color in racing is green, and I'm not talking about rolling pastures. The racing landscape has changed significantly over the last decade with the advent of the "racino" which is loosely defined as a race track that has a casino. Now more than ever race tracks are flush with cash allowing them to offer purses at levels that were unheard of previously. The old saying that goes, "All good things must come to an end" could certainly ring true with the recent events that took place in Florida several months ago. That being said, is all this new found money a good thing?
Racinos came into existence in the 1990s with Charlestown Racetrack one of the venues leading the way. The West Virginia track saw purses and handle dwindling with no relief in sight. In 1995 the track was put up for sale and later purchased by Penn National Gaming when the county approved the installation of video lottery terminals. Casino operators took notice and over the next two decades racinos popped up in ten different states. In the beginning it was a perfect marriage. Race tracks were large facilities that already had an established form of gaming. The county would stand to benefit from more jobs and tax revenue in addition to a portion of the proceeds that would subsidize purses and revitalize racing. Just like all marriages, it has had its share of problems.
Simply put, casinos are profitable while most race tracks are barely hanging on. Without going off on too much of a tangent think about the amount of costs needed to put on a live racing performance with salaries for the front and back side, security, workman's comp, and tote machine costs among other things. That little blackjack table or slot machine seems much more appealing now doesn't it? The profits are actually staggering and can be anywhere from 5 to ten times as much as racing, so you can see why so many companies are willing to operate a racetrack in the red to have the casino in the black.
As with any business the most profitable segment is focused on with plans for growth while the non-profitable segments are spun off or sold, and that is exactly what is taking place now. A visit to any racino these days will provide racing fans with a harsh reality check. With no attempt to grow the racing side of the business many racinos average a couple hundred fans a day. That's right a couple hundred. Based on my personal experiences most employees don't know what a program is let alone where I can buy one.
On July 23, 2016 Parx Racetrack, which is a racino, had live racing. Parx gave out $408,000 in purses over ten races and had decent field size with 7.6 horses, but it goes downhill from there. Parx had all source handle of $935,506 ($81,395 on track) that amounts to $12,309 in handle per starter and a whopping $2.29 in handle for every purse dollar distributed. Keep in mind; handle isn't what the track keeps. In our previous blogs we have broken down these figures ad nauseam, but this should bring it home for you all. 92% of their handle is the off track signal export that is charged at a rate of 5% in the form of a host fee coming in at 20% for the on track. So, with $2.29 in handle for every purse dollar distributed, 92% of that generates a 5% host fee for the track, with the remaining 8% at a takeout rate of 20%. Ready for this? The host fee for the export brings in 11 cents for every purse dollar distributed with the on track handle accounting for another 4 cents. For those keeping count, 14 cents of the purse dollar paid out at Parx is covered by the wagering when it is supposed to fully fund the purses. So what is the big deal?
There is no doubt in my mind that in the next decade or even sooner a racino will decouple from the race track and the purse subsidies will end. This will set a precedent that will be followed across the country that will no doubt force many tracks to revisit their business plans or even close. With a seemingly endless supply of purse money contingent upon nothing else other than running a race, a new problem has developed; complacency. When the funding for your operation does not depend on results, why try to make improvements? Racinos are happy to operate racing at a loss in order to run the casino at a huge profit. Horse racing has basically been relegated to a line item on a set of financial statements and treated as a cost of business. The day will come when racing isn't playing with house money anymore, and that is when the real decisions are made. You have to know when to hold'em, know when to fold'em!
{{cta('7f90c40d-053f-4143-b319-a06be60edf5d')}}