---
Mike Smith is riding high. Inducted into the Horse Racing Hall of Fame in 2003, Mike has won more Breeders' Cup races than any other jockey. He was the regular rider for such super stars as Zenyatta, Shared Belief, and Azeri and currently is the rider of Songbird, Unique Bella, and Breeders' Cup Classic winner, Arrogate. Last November, Mike guided Little Red Feather Racing's Midnight Storm to his first graded stakes victory at Del Mar in the GIII Native Diver Stakes. We caught up with Mike after a morning of breezing horses at Santa Anita.Billy Koch: You're 51 years old now and you may be riding better than ever. How is that possible?
Mike Smith: Well, experience for one. You know like anything life… we all know that. I also like to think if I got anything right at a young age, it was getting involved in physical fitness. I really started working on my body and training a lot. I think it has given me longevity. I feel like I'm in really, really good shape right now. I truly believe that I'm just as fit now as I was when I was in my early 30s.
BK: Oh, I've seen your workouts. It's impressive. (Mike laughs – We used to workout together a couple of summers ago. It's insane. Trust me.) What do you what do you think is the main difference, other than the experience, in your riding style now than it was when you first hopped on a racehorse?
MS: First of all, I'm a lot more patient. I've always had a love for horses but I just feel like I understand them a whole lot better now. I feel like I can get into their head. Feel what they want. When they're happy or if they're not happy. If you get them good and happy and you let them do what they do best… They're very dangerous…. In a good way.
BK: How much you prepare you do before races? Do you watch videos, read the Form, or look at the ThoroGraph sheets?
MS: It really depends on if I've ridden the horse or not or if I know the competition or not. I'll definitely research though. I'll do a little film work just to see who I'm running against. Then I'll just look at the race on paper so I can come up with a plan and, most of the time, a plan B (laughing). Then sometimes I have to go out on whim and just improvise. So many things can happen in a race so you'd better be prepared to just react if things don't go right. But I really have a real good idea of where I want to be and what I want to do. Who I think the main competition will be, who I want to keep my on. Usually though, I want to get my horse in that happy place, man. I want to put them in that beautiful rhythm where I can use their strength to their advantage.
BK: You have the perhaps the biggest race your career coming up in the $12M Pegasus World Cup on January 28 at Gulfstream Park. You will be riding Arrogate for trainer Bob Baffert. Take me back to the Breeders' Cup Classic where you ran down California Chrome during a thrilling stretch run. When did you know you had California Chrome measured?
MS: Well… Just before the quarter pole. I knew what kind of horse Arrogate was because I had ridden him in the Travers (he went wire to wire that day and won by 13 and a half lengths). I knew this big grey son of a gun was going to give me another gear once we turned for home and straightened out. He's relentless. I mean he's got stamina to no end. I knew that if I could let him run when I wanted to, I was going to have a really big shot of catching him. In saying that, when Victor (Espinosa) cut Chrome loose, I mean, he opened back up on a good half a length, three quarters, maybe even a length on me. But once I reached back and got him one time left handed… HE CUT. Then I went back right handed and he showed me another gear and I knew we had him.
BK: It's funny that you mention your "left hand". To me, it's your signature move. Is there a signature move on another jockey that you've seen that you really like?
MS: We all have our little things. Desormeaux throws those crosses. That's when you know he's got horse and you know he's probably going to come get you when he's doing all that fancy cross stuff he does. (Gary) Stevens… I just know from his body language whether he has horse or not. Everyone has their thing and everyone is unique. I can imitate half those guys. (laughing).
"I knew this big grey son of a gun was going to give me another gear once we turned for home and straightened out. He's relentless. I mean he's got stamina to
no end."
BK: Let's go back to Arrogate. You've ridden so many incredible horses. Zenyatta, Songbird, etc. The list is amazingly long. Is there a horse that you might compare Arrogate to?
MS: I don't know if I've ever been on a horse with that kind of stamina. This horse, Arrogate, he's supposed to be blowing and want to stand still for five minutes after he gets done. Like the Travers. I mean, after the race, he turned around and took a breath like, "Huh! That was fun!" (Laughing) You see how fast he ran? He only had run five times and he's going in a mile and a quarter of first time. That's crazy! Then he runs runs down the great California Chrome in the Classic and the next morning everyone who had run that day was lying down in their stalls. He's at the front of his stall nickering and weaving his head back and forth as if to say "Come on Man. Let me out of here! I want to do that again!" His recovery time and his stamina are just unbelievable. I don't know if I can honestly compare anyone to Arrogate.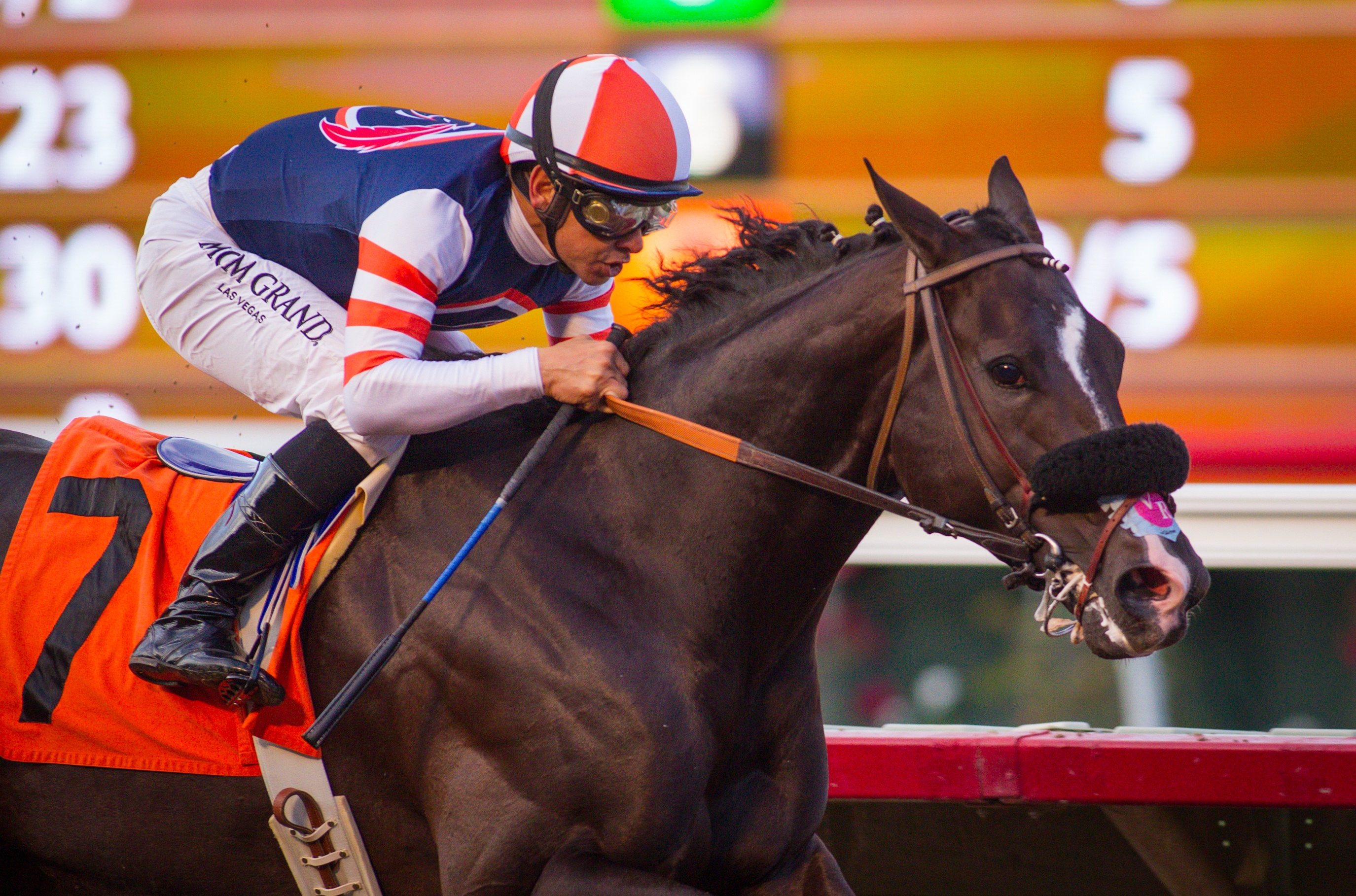 Mike Smith and Midnight Storm capture the 2015 Native Diver Stakes at Del Mar. (Photo credit Zoe Metz)
BK: In an interview recently, Victor Espinosa came out and he said he's going to ride Chrome differently this time. He took a lot of heat for his ride in the classic. You were criticized – fairly or unfairly – for your ride on Zenyatta in the 2010 Breeders' Cup Classic. The lone blemish in her career. Unlike Victor, you never had a chance at redemption. I'm sure you've probably played that race in your mind a thousand times. If you had the chance to do it all over again, would you do have done anything different?
MS: You know, honestly, there probably wouldn't be anything to do differently. She just left there stumbling around the first part of the race and I didn't really know if she was OK, not OK, if she just wasn't handling the track. It was just weird, Man. I just don't know if I would try anything different. Of course I would have been willing to try anything if I had another chance. I'm not happy with the second. Especially with that race being her last race ever! I'm just not sure what I could have done differently. As far as the criticism for Victor, I don't think it was justified. Believe me, he kicked away from me when he was supposed to. If he wanted to take off earlier in the race, that would have been even better for me because I would have taken off right behind him and with the stamina my horse has, I think the result would have been the same. I can tell you one thing, at the quarter pole when Victor asked him, Chrome took off. He dropped. He gave him another gear. I know that for sure.
BK: We mentioned Songbird earlier and we mentioned Gary Stevens as well. The Breeders' Cup Distaff this year – another nose loss for you… I'm sorry – was most one of the most exciting and memorable races I've ever seen. Take us through your thought process from the half mile pole home.
MS: Well, I knew it was going to be a battle. I took a peek back to my outside and I saw Stevens had a lot of horse and he was going to start marching any second… and I was right. I mean, we picked it up at the three-eighths pole and it was a long, long fight. I don't know if I've ever been in a battle that long. It was it was crazy. I mean we both had our pedal to the metal from the three-eighths pole all the way to the wire. It will go down as one of, if not the greatest distaff of all time… right up there with Winning Colors and Personal Ensign.
BK: No Question.
MS: And you know, it was the kind of race that even though I got beat, I was so proud of my filly and for my brother (Stevens) to beat me on the wire. We may have lost… but we really didn't in my book.
BK: We talked on our Horse Ownership Experience Podcast about you possibly owning horses one day. What kind of advice would you give to someone that is looking to get in the game as an owner?
MS: It's a business first and foremost so be careful if you try to mix business and pleasure. Even with friends, it doesn't turn out so great sometimes. Just make sure you know who you're getting involved with. Make sure you trust them, you are comfortable with the trainers and the partners, and make sure, even if it doesn't go as planned, you have fun with it! Check out the horse racing partnerships as well!
BK: What does Mike Smith do for fun?
MS: I like to go to a really nice restaurant with good friends and have some good wine, good food, and just to talk about life. What happened last week? What's going to happen in the future? You know I work out quite a bit and I enjoy that but, yeah, I would have to say good wine and food and wonderful friends.
BK: Wheel of Fortune or Family Feud?
MS: Family Feud for sure. I watch it all the time! (Laughing).
BK: Thank you so much Mike. Best of luck in a couple of weeks at the Pegasus Cup with Arrogate.
MS: Anytime!
Want to learn more about horse racing partnerships and how to get involved? Please contact us any time or check out E-book!
{{cta('7f90c40d-053f-4143-b319-a06be60edf5d')}}
---