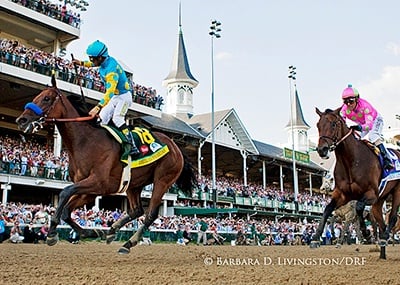 37 years.
That's a long long time.
I was 8 years old when Affirmed beat Alydar for the third consecutive time to become the 11th Triple Crown winner in history. Since then, 13 horses have stared down Big Sandy and the mile and a half Belmont Stakes with a chance at becoming number 12. All 13 have failed. I've watched every single one of them and, to be honest, I've rooted against most of them. For a variety of reasons, the others didn't feel right to me. None of the others had the power of Secretariat or the brilliance of Seattle Slew or the class of Citation.
This Saturday, American Pharoah takes his turn at horse racing immortality. He comes into the race of smashing, convincing victories in the Kentucky Derby and Preakness. Although he will be an overwhelming favorite to win on Saturday in New York and become the 12th Triple Crown winner in history, most pundits have enough history on their side to believe Pharoah will lose in the same manner as California Chrome, Big Brown, Spectacular Bid and the others who have tried and failed.
Listed below are the top three reasons American Pharoah will win the Belmont Stakes on Saturday and become number 12.
---
1. American Pharoah is Different
I cannot think of a horse that moves quite like AP. He floats over the track with a rhythmic stride that is as much ballet as it is athleticism. Simply put, AP is a brilliantly constructed racehorse and I have no problem writing his name next to Sir Barton, or Whirlaway, or Count Fleet.

2. They've Been Here Before
AP's jockey Victor Espinosa has failed to capture the Triple Crown twice before. Just last year, Espinosa's dream came to a crashing halt when California Chrome ran out of gas during the long Belmont stretch. In 2002, Espinosa and AP's trainer Bob Baffert teamed up with War Emblem but could not capture that elusive third leg. Baffert has also been there in 1997 with the great Silver Charm and came ever so close in 1998 when Real Quiet lost his Triple Crown bid by a nose. I'm banking on the experience of both Espinosa and Baffert to shine when the lights are the brightest.
3. He Does Not Have a Bitter Rival
In 1987, the great Alysheba was defeated by rival, Bet Twice, who had run second in both the Kentucky Derby and the Preakness. In fact, Bet Twice and Alysheba faced off nine times against each other with the final tally Alysheba 4, Bet Twice 3. In 1989, the great Sunday Silence defeated rival Easy Goer in the Derby and Preakness before the Easy Goer enacted his revenge in the Belmont. In 1998, Real Quiet (and Baffert) were literally one step away from immortality when he was run down by his rival, Victory Gallop. American Pharoah has no Bet Twice, no Easy Goer, and no Victory Gallop to chase him down in the final furlong. When Espinosa looks behind him with a sixteenth of a mile to go, he will see only the ghosts of the previous 13 who have tried and failed.
---
Move over Omaha, Assault, and War Admiral. On Saturday evening we will welcome in the 12th winner of the Triple Crown when American Pharoah storms to victory in the Belmont Stakes.
Did I happen to mention that I will be there? #letsdothis #TCnumber12
Let us know what you think! Will Pharoah win the Triple Crown or not?
Interested in learning more about what it really means to own a racehorse, contact Little Red Feather today to start your ownership journey.
---